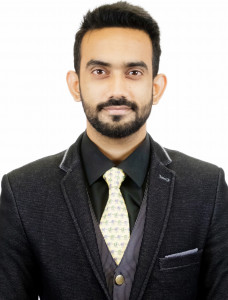 SHORT BIOGRAPHY:
Muhammad Ahmed Khan has completed his B.Sc. degree in Biomedical Engineering with distinction (cum laude) from NED University, Pakistan, in 2011. Afterwards, in 2015 he received an Erasmus Mundus scholarship for joint M.Sc. degree in Embedded Systems from Germany and Romania. Finally, in 2019 he obtained his Ph.D. in Technology for Health, from the University of Brescia, Italy.
Currently, he is the holder of a research grant with the Department of Information Engineering, University of Brescia. His main research interests include biosensors development, bioelectronics instrumentation, electronics application in tissue engineering, designing biomedical devices and healthcare monitoring systems.
He has worked on several bioelectronics projects which involve designing and developing medical devices and healthcare systems. In addition, at the University of Brescia, he has successfully optimized a sensor system implanted in knee prosthesis. Currently, he is working on a project to design a "smart scaffold" that can act as a biosensor to monitor various cell properties like cell growth, adhesion and proliferation.
s
CONTACTS:
Mobile: +39 3299640377
E-mail: m.khan004@unibs.it
a
USEFUL LINKS: