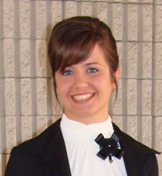 SHORT BIOGRAPHY:
Michela Borghetti received her M.Sc. degree (cum laude) in Electronics Engineering from the University of Brescia, in 2012. In 2015, she was a visiting Ph.D. student at the Universitat Politècnica de Catalunya. In 2016, she received her Ph.D. in Technology for Health from the University of Brescia.
From 2016 to 2017, she was Postdoctoral Fellow with the Department of Information Engineering, University of Brescia. Since 2019, she is Research Fellow with the same department.
Her research activity deals with the design and fabrication of sensors for healthcare using low-cost technologies. Furthermore, she is developing electronic systems for measuring and monitoring limb movements.
a
CONTACTS:
Phone: +39 0303715459
E-mail: michela.borghetti@unibs.it
a
USEFUL LINKS: